Language lessons online, via skype and hangouts
Fun Learning Language Institute in Toronto, Canada is offering English lessons online via Skype and Hangouts. It allows you to learn from the comfort of your own home at the most convenient day and hour.
Lessons are offered by professional, certified teachers. All our English instructors are native speakers of the language with vast experience in teaching. We believe language learning should be easy and enjoyable.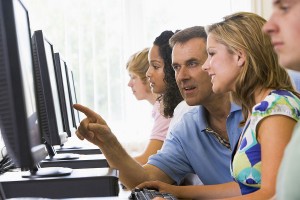 We will provide the learning materials (grammar explanations and exercises, readings, etc.) in an easily downloadable and printable format so there is no need for you to buy a text book.
We can accommodate your specific requirements in terms of privacy for you or your children -for example, the student can remain invisible to the teacher, and the only interaction will be through the voices of the teacher and the student(s).
Course description:
Our language program is designed to get students speaking from the first class. Our approach is communicative and based on motivating students (mainly through conversations). We combine the four language skills: listening, speaking, writing, and reading.
Special needs English courses are offered as well: conversation, grammar, preparation for international tests (IELTS, TOEFL) business, and survival courses (for traveling). Preparation for CELPIP test as well.
Prices:
Semi-private lessons (2 to 3 students):
Level of 24 hours: US$456, per student
Private lessons (one-on-one):
1 hour: US$40
10 hours: US$370
20 hours: US$660
30 hours: US$900
(If you are in Canada, the same prices will apply in Canadian dollars + HST)